GLOSSARY OF WORDS AND PHRASES USED BY THE 'FANCY'.
ALE-DRAPER. publican.
BAKED. exhuasted.
BALL OF FIRE. glass of brandy.
BANG-UP. most stylish.
BEAK. magistrate..
blackleg. sporting gambler or sharper.
BREATHING. exercising.
BREECH.backside.
BUB. beer.
BOTTOM. courage or guts.
BENDER. 6d.
BLUNT. money.
BLUNTLESS. without money.
BRADS. see above.
BOTTLE-MAN or BOTTLE-HOLDER. one of the prizefighters seconds.
BELCHER. fasionable neck attire (usually a blue & white spotted neckachief) tied in a styl first made famous by Jem Belcher. In vogue until WWII.
BRUISER. boxer.
BUFFER. see above.
BEATING OUT. to clear the outer ring before the fight.
BUM BALIFF. Sheriff's representatives.
BUNCH OF FIVES. fist.
CLY or CLIE. pocket.
CROSS or X. a fixed or thrown fight.
CROSS-BUTTOCK. pitching an opponent over the buttocks to the ground.
CLOCK. face
COOL NANTX. brandy.
CLARET. blood.
CHAUNT. a song or ballard.
CHAUNTING. singing.
CHAFFER. mouth or chin?
CASTOR. hat.
CHUCKERS OUT. boxers who cleared the ring and who kept order during the fight.
DADDLE. hand.
DARBIES. fetters.
DIAL. face.
DIAMOND SQUAD. fashionable society.
DOUBLER. an extremly hard punch.
DOLLOP OF BLUNT. a large amount of money.
DAFFY CLUB. a less affluent version of the Pugilist Club.
DAFFY. gin, also known as blue ruin,old tom,white tape,max,geneva,jacky,stark naked,fuller's earth,flash of lightning.
EYE-WATER. gin.
FACER. a blow to the face.
FIB. to box or punch, also short or half arm punch.
FIVES. fists.
FOREGINDERS. teeth.
FLASH. knowledge?
FLAT. an innocent gull or 'johnny raw'.
FANCY. the followers of boxing.
FLOORER. a knock-out punch.
GELT.money.
GLUTTON. a daring competitor.
GOB. mouth.
GAME. courage and endurance.
GRUB WAREHOUSE. stomach.
HALF A BULL. 2s 6d.
HEAVY WET. strong drink,also porter.
IVORIES. teeth.
JOSHKIN. a countryman.
KNEE-MAN OR KNEE. one of the prizefighters seconds.
LEG-MEN. bookmakers touts.
LEVELLER. a knock down blow.
MUFFLERS or MUFFLES. early boxing gloves used in sparring or training.
MAULEYS or MAWLEYS. hands.
MILL. (n. and v.) fight, to box.
MUZZLER. an upper-cut.
MILLING. boxing.
MILLING ON THE RETREAT. moving back whilst counter punching.
NAPPER. head.
NOB. head.
NULLER. boxer.
OGLES.eyes.
OFFICE. private infomation of prizefight venue.
PECK. food.
PHIZ or PHIZZOG. face.
PICK UP. to act as a second.
PUGILISTIC CLUB. the main ruling body of boxing.
PC. see above.
PRIGS, thieves.
PUG. boxer.
PRADS. horses.
PADDING THE HOOF. riding.
PEEPERS. eyes.
RATTLER. coach
RED TAPE. brandy.
RUM.queer, but also excellent.
RECEIVERS GENERAL. boxers with many fights behind them.
STEVEN. money.
SHINER. black eye.
SHOVE IN THE MOUTH. glass of gin.
STAMPERS. feet.
SUIT IN CHAUNCERY. to grasp an opponents head under the arm, whilst having the other hand free to 'fib'.
STUMP UP THE BRADS. put up the money.
SECONDS. the boxers assistants.
SNEEZER. nose.
SMELLER. see above.
SET TO. begin the fight.
SCRATCH. the line marked in the centre of the ring.
SPARKLERS. eyes.
SWELLS. the well off and rich.
STOMACHER. a heavy blow to the stomach.
TRAP. mouth.
TURN UP. a casual or unscheduled fight.
TWO BOBS. 2s.
THREE BOBS AND A BENDER. 3s 6d.
TRIFLER. an unworthy opponent.
UPPER BENJAMIN. overcoat.
VINEGAR. guard at a prizefight.
WET. drink.
WNDER. a body blow.
WISTEYCASTOR. a powerful blow in boxing.
WHIPPERS OUT. boxers who cleared the outer ring and who kept order during the fight.
YELLOWMAN. another name for a belcher.
UP TO SCRATCH. from the boxers having 30 seconds between rounds to get to a line (sometimes scratched in the turf) in the centre of the ring.
TOE THE LINE. see above.
UP TO THE MARK. see above.
THROW IN THE SPONGE/TOWEL. to give up the fight.
FANS. abbrevation of the term 'Fancy', a word used to describe the supporters who attended prizefights.
BEEN THROUGH THE MILL. from having been through a very tough fight.
GLOVES OFF. gloves were worn during sparring or training, but the gloves were taken off for the real fight.
WIN HANDS DOWN. where an opponent is so easy to beat that a boxer hardly needs to raise his hands to beat him.
THROW YOU HAT INTO THE RING. boxers used to mark their arrival at the ringside by throwing their hats into the ring.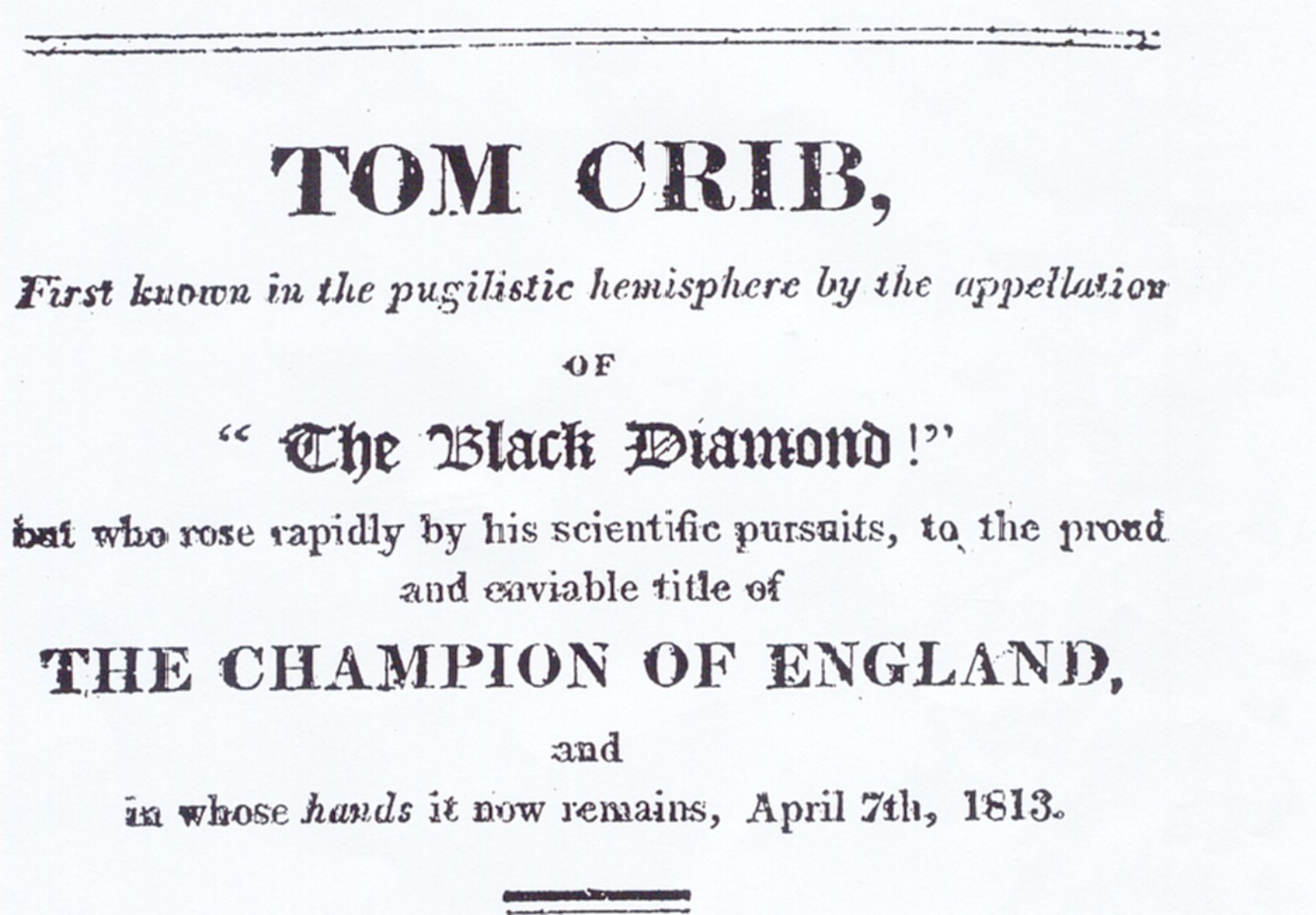 CRIBB AS MENTIONED IN SONG & LITERATURE.
"Three or four prints of dogs heads; Grimaldi winning the Aylesbury steeple-chase; and Tom Crib, in a posture of defence, which did no credit to the science of that hero, if truly represented."
An excerpt from 'Tom Brown's Schooldays' by Thomas Hughes. 1857.

"No worse than yerself', retorted Bailey guarding his head, on a priciple invented by Mr Thomas Cribb. 'Ah! Come now! Do that again, will yer?'
From chapter 9 of 'Martin Chuzzlewit' by Charles Dickens.

THE MOST ADMIRED CHAUNTS, sung at the Convivial Meetings of the Fancy.
Written by Mr. Lawson, And sung by Mr. Emery, at a Dinner given to Crib, at Gregson's.

Come list all ye fighting Gills,
And Coves of boxing note, sirs,
Whilst I relate some bloody Mills,
In our time have been fought, sirs.
Whoe'er saw Ben and Tom display,
Could tell a pretty story,
The Milling-bout they got that day,
Sent both ding-dong to glory,
Sing fal lal la, &c.